August 09, 2022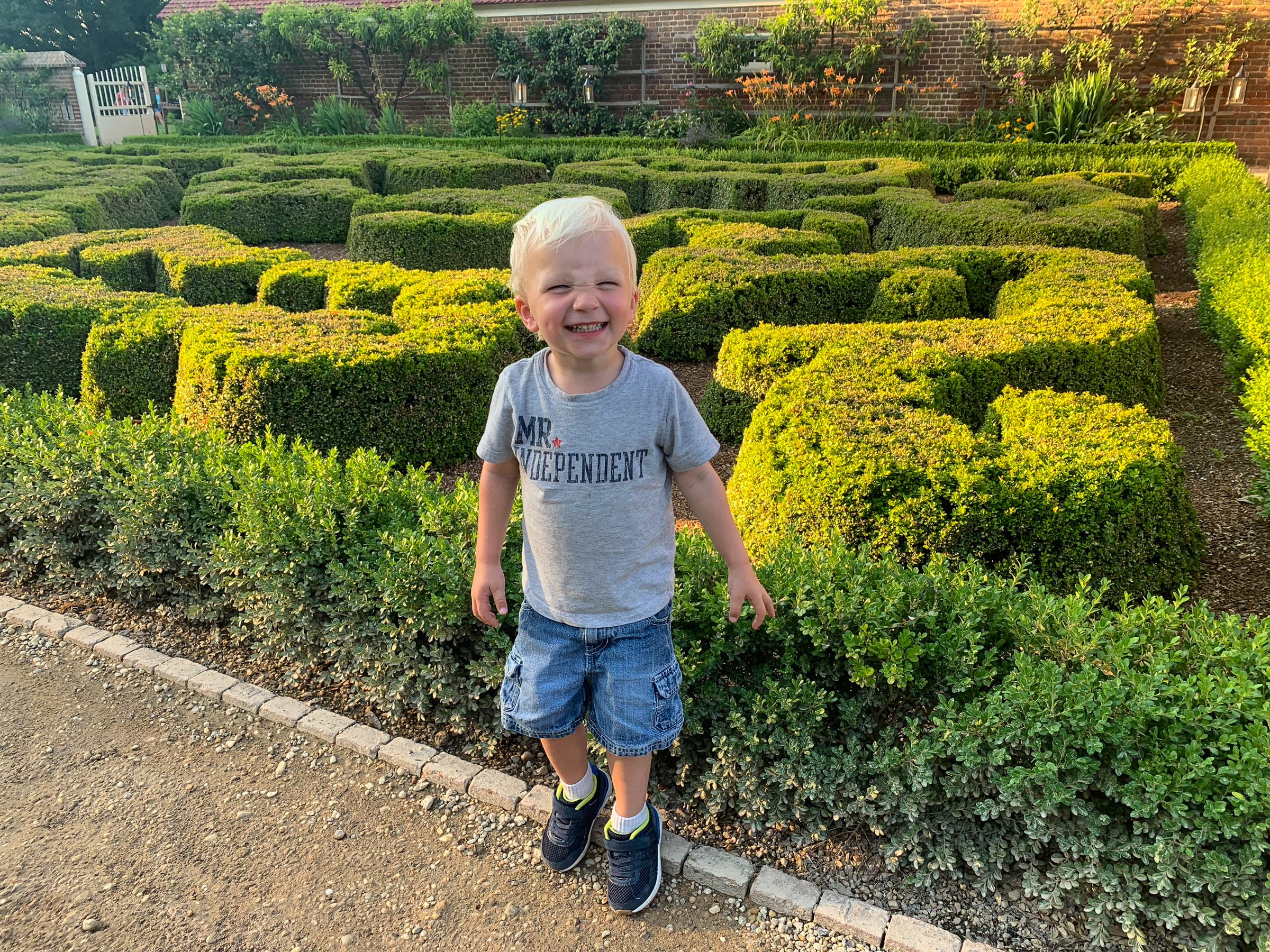 Titus,
We had an action-packed summer, with lots of travel and adventures. From Colorado to visit family, to a trip to Florida for a week, and lots of time in the pool at home, it was wet. And fun. The month started with a huge slip-n-slide party in the backyard with lots of friends.
You've started climbing, mostly out of places you're supposed to be staying. After a round of fussing at the table, Mommy told you you had to stay in your chair or you would have consequences. You proceeded to start getting down, "I have to tell mommy I sorry." You came right over to to Mommy, "I love you mommy". "Back in your chair, mister."
Next, it was climbing out of your crib. "I got up myself!" This genie is not going back in the bottle. Popping out of your room at naptime and in the morning necessitated a color-changing clock. We've gone with green when it's time to come out. "Mommy, my light is green!" Now, the whole upstairs knows when it's green, and it's time to come out. I suspect that we're just going to have to take the side off the crib soon.
The flip side of climbing out is that you're our first kid to really know when you want to go into the crib, too. When that time of night rolls around, you know you're ready for bed. You ask for milk, ask for a bath, and then give a hard yes when we ask if it's time for bed.
The trip to Colorado started with a flight with just Daddy and Noah. (Mommy and Seth went a day early). After Mommy's successfully negotiated flights with all three boys by herself more times than you have fingers, Daddy got to have most of the experience. It's not even a little bit comparable to how good Mommy is at this.
Colorado was a great time celebrating with family. Mommy's birthday, Grandpa's 75th birthday, and Papa and Nana's 50th wedding anniversary. On top of that, there was bowling with cousins, sleeping over at Grandpa and Grandma's, mini golf, and a big water slide!
You got your first bowling experience. Each set of pins knocked down prompted a celebration, and jumping around. "I made a record! Yeah!" A big birthday celebration for cousins and Mommy at the cousins' community pool got you access to the big waterslide. You're still working on swimming, but you're more than happy to fly down a slide. As long as someone's there to catch you…
Your knowledge of shapes has advanced as well. In June, Mommy held up a shape. "What shape is this?" "A…shape?" In August, "What is this?" "A shape-a gon!"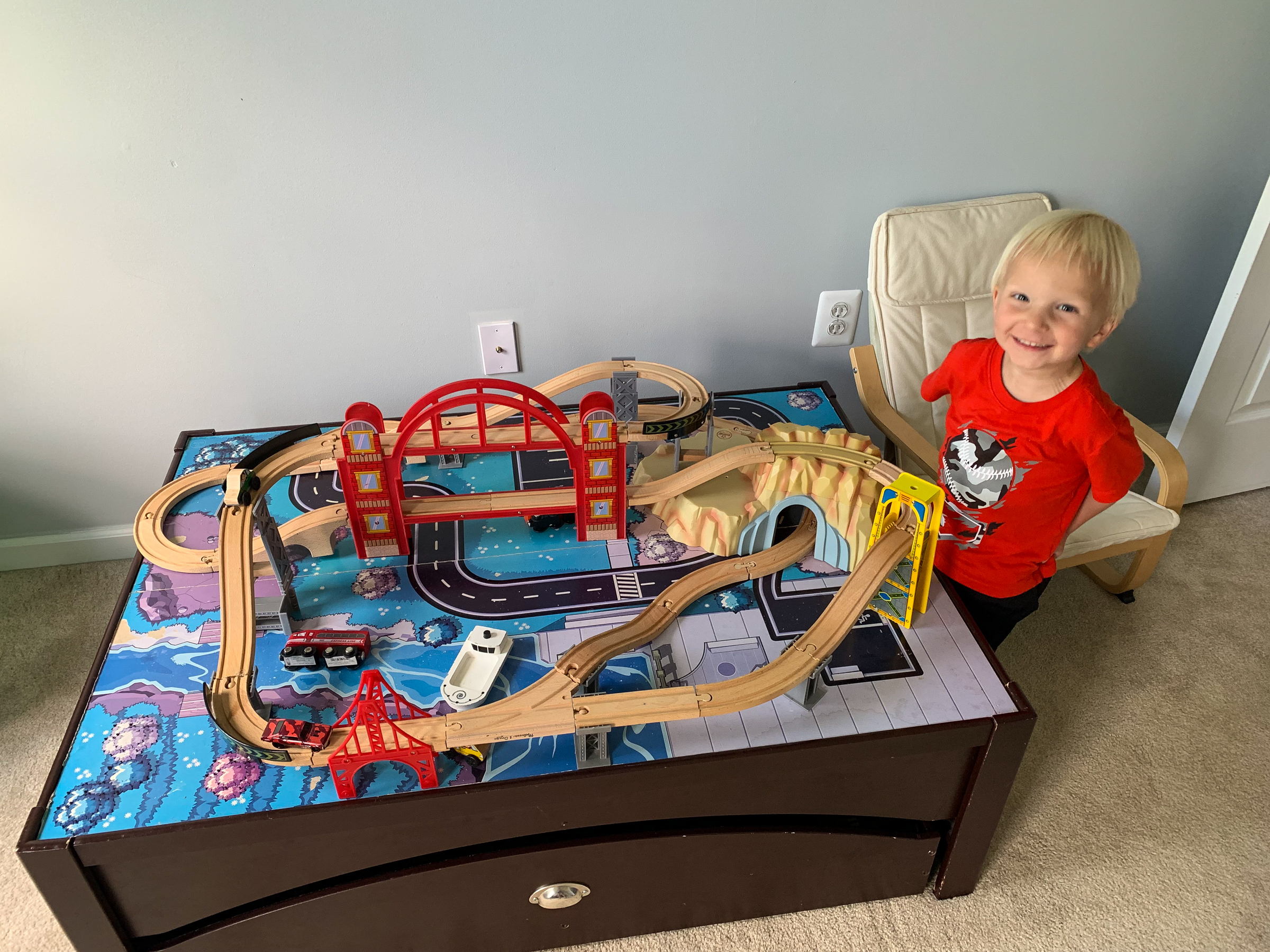 Quick hits:
Washed your hands in Nana's bathroom, "Ew, it's citrus. I don't like citrus, ugh!"
Looking for your clothes: "I don't know where is the pants!"
Opening the Amazon package Daddy ordered for Mommy. "Oh, cool!" Mommy had to have Seth put it back so she didn't see it.
Popped out of the playroom, hopped in the air, and said "Holy Moley!" "I just said holy moley!"
Every time you have a bath, you get dried off, dry off your head, and then have to hop up on the stool to look at your hair. "Hair sticking up!" or "My hair crazy!"
Watching the fireworks over the Potomac from Mount Vernon.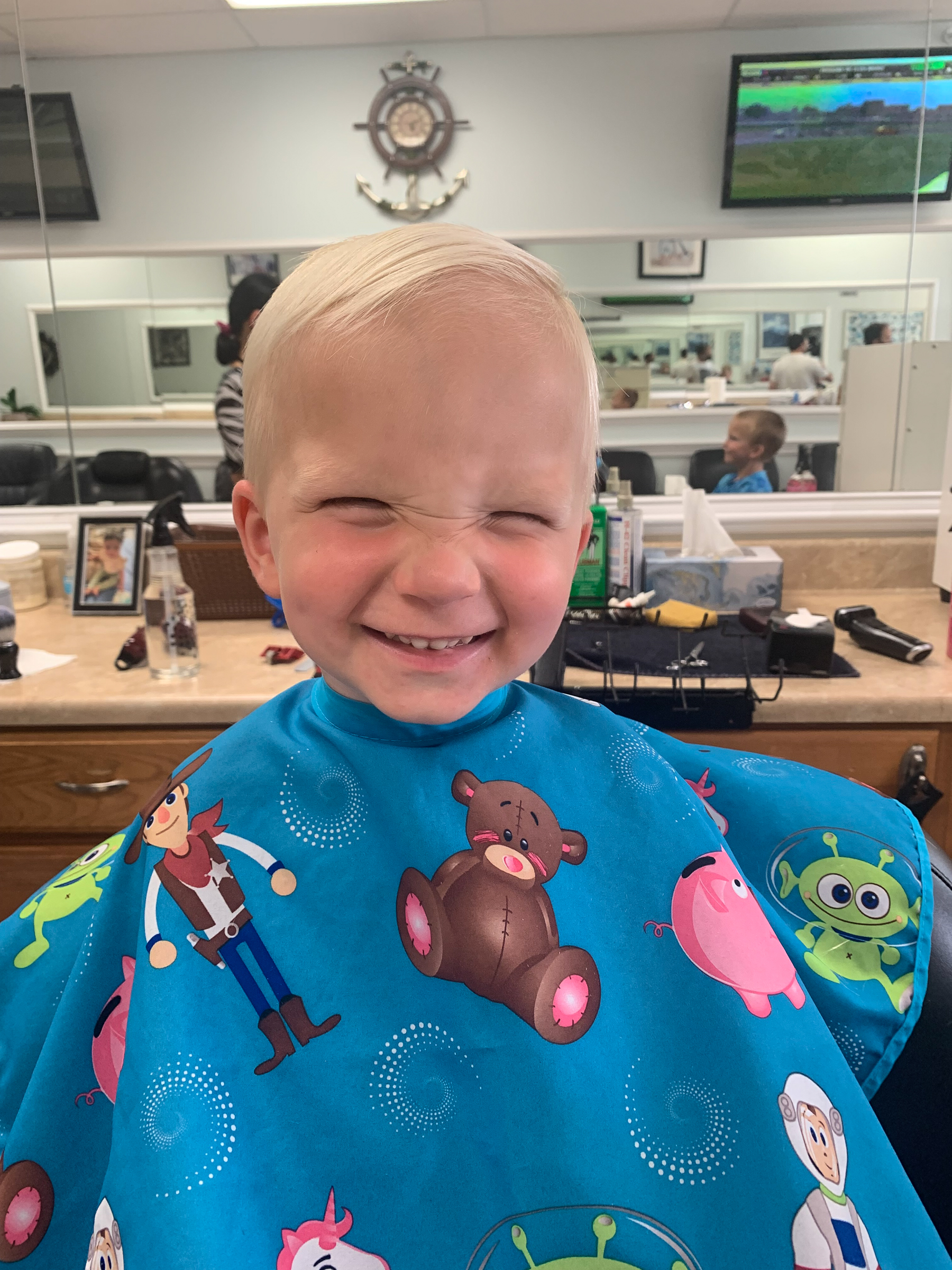 That crazy hair led Mommy to take all three of the boys for a haircut. What a cute bunch! That happened right before our big, right-before-school trip to Florida. Daddy had to be at training for a week, so the whole family went down early to go to Sea World, and then to enjoy the sun, sea, and pool before school kicked off. Sea World brought the fascinating dolphin and whale shows, as well as your first roller coaster! We also got to go on an airboat tour of the Everglades. It was hot and sunny, but the alligators did not want to come out to be seen.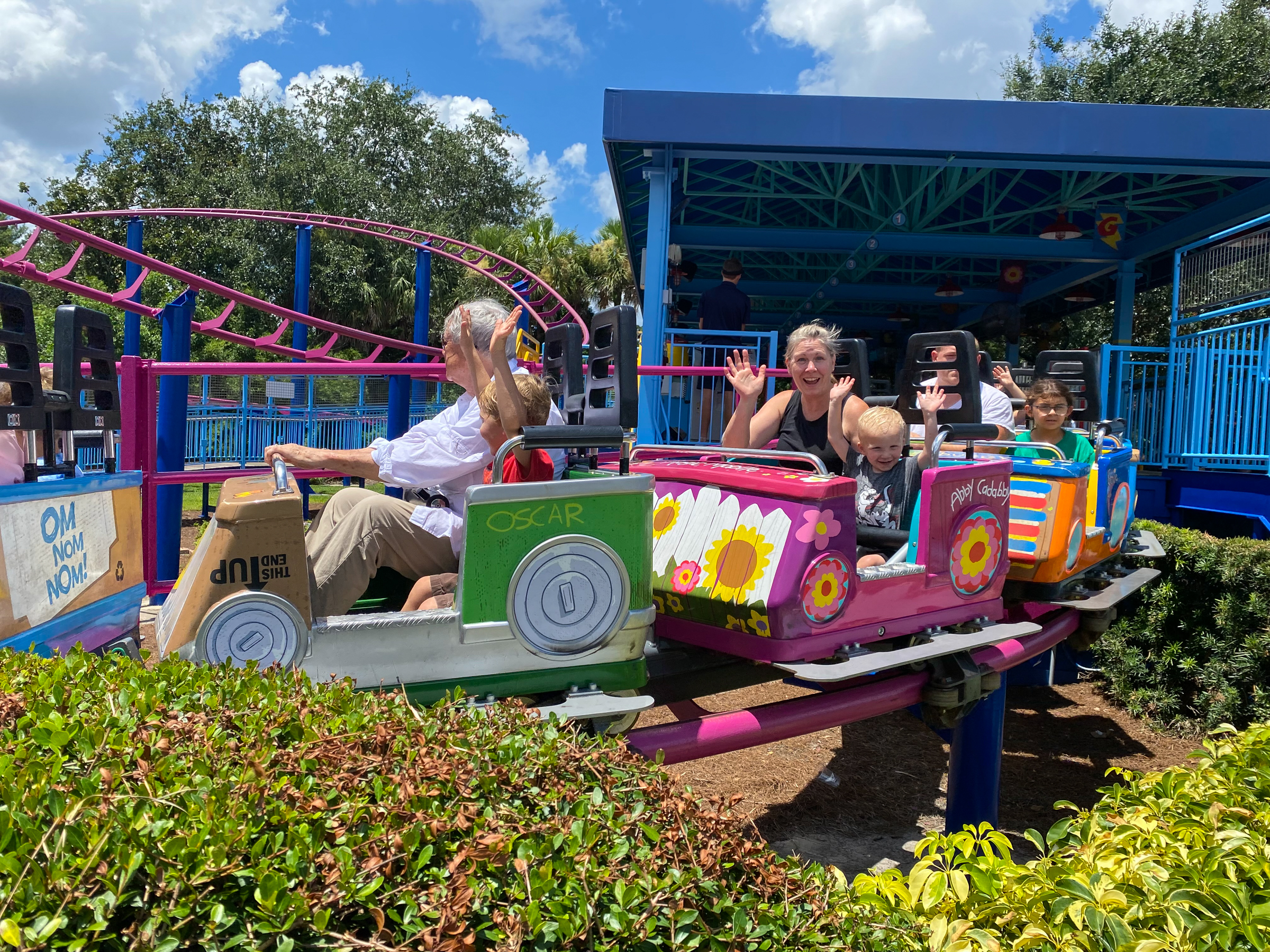 We got family pictures at the beach, and had great times at the pool and in the ocean. You decided the last day in the pool that you were going to go underwater. Over and over. With your eyes open. That led to jumping in and getting back to the surface on your own. If it weren't the end of summer, you might be swimming before long! Maybe some indoor pool time this fall and winter.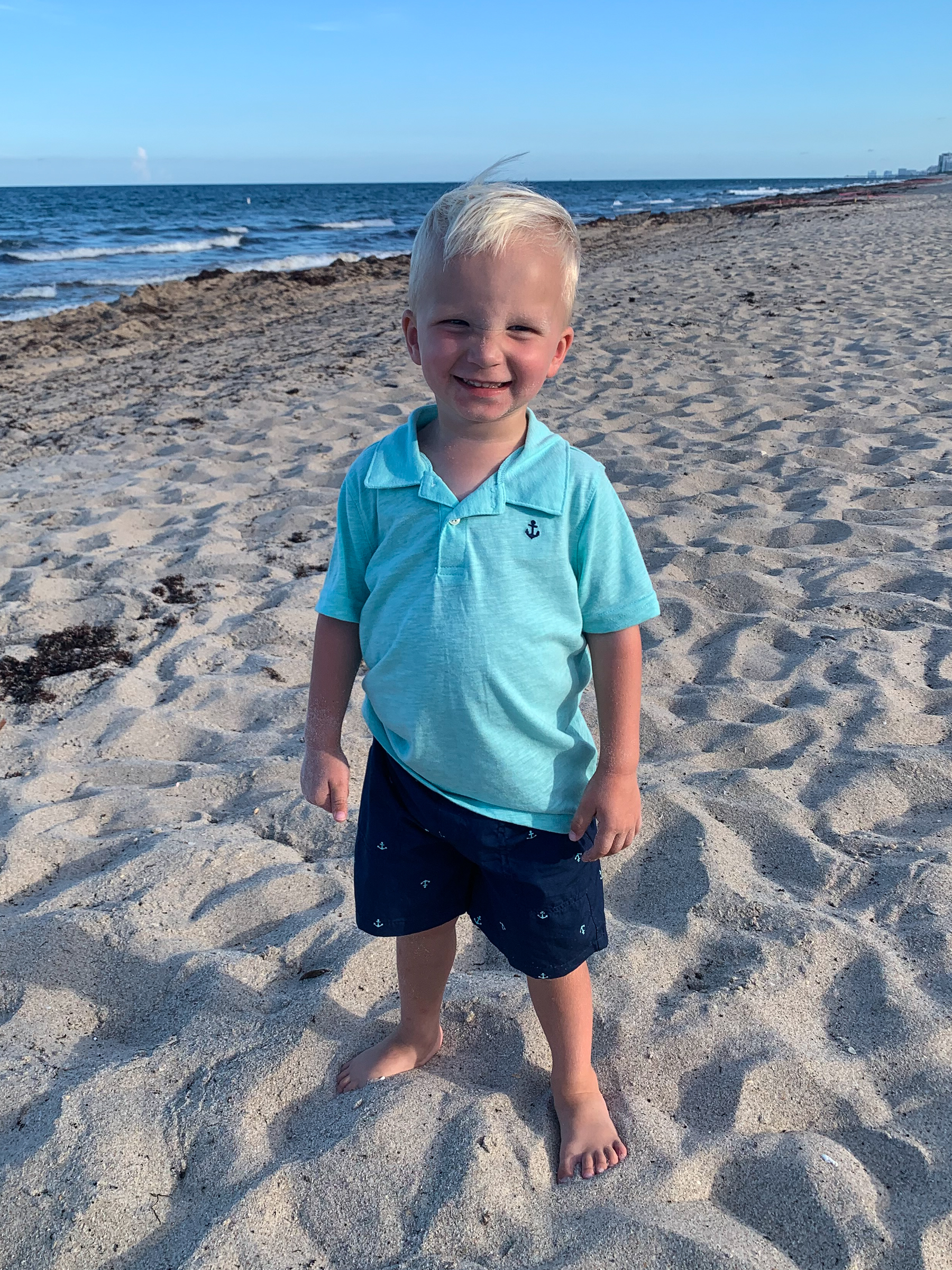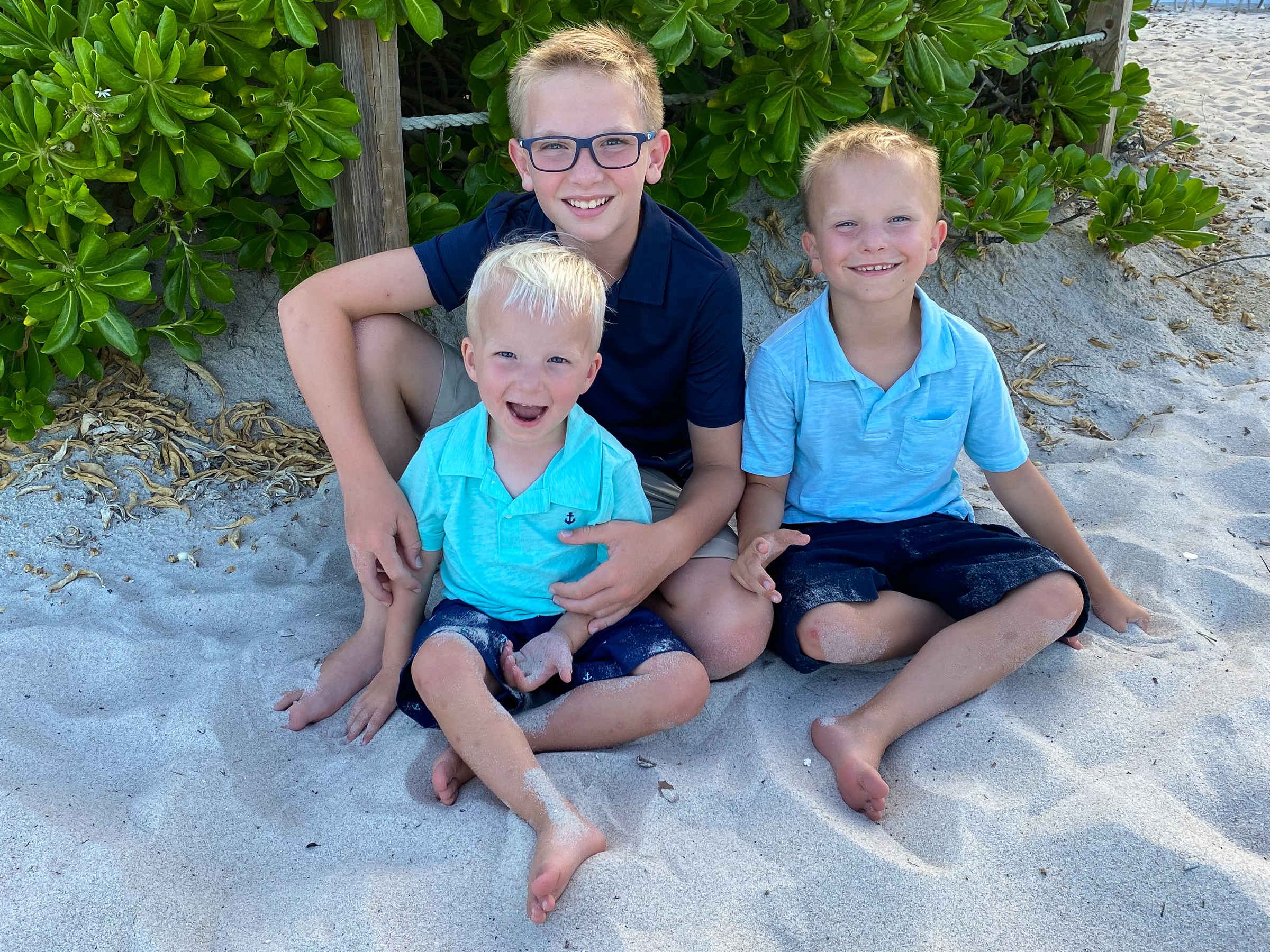 We went two for two with travel delays on our trips. Late flights resulted in arriving back home from both trips after 2 AM. Skipping nap meant you were hamming it up at the gate for the second, delayed flight. You're cute enough to get away with wandering around being nosy, and talking with everyone. You have no stranger danger whatsoever, and everyone loves you.
It's been a pleasure to spend the summer with you and your brothers, making memories and having fun. You are so talkative and cute, it's fun each and every day. We can't believe we are already heading into birthday season for you and your brothers, and you are almost three! We cherish every day with you, and wish you wouldn't grow so fast.
We love you so much!
Daddy and Mommy